Welcome to Greenwich
There are many reasons why Greenwich is an ideal place to live. Greenwich has one of the lowest tax rates in the state, it has top-rated public and private schools and it is less than an hour's commute from New York by train or car. But Greenwich is so much more. Residents can enjoy access to breathtaking public beaches, islands, harbors, golf courses and several parks. In addition, Greenwich boasts museums, libraries, galleries, theater companies, a symphony and historical society. Residents can participate in many annual events, such as the Greenwich Town Party, the Concours D'Elegance car show, Fourth of July fireworks, Adopt-a-Dog's festival, Greenwich International Film Festival, Greenwich Wine and Food Festival and the First Light Festival. Each community within the town is unique based on its location and what it has to offer.

View Greenwich Neighborhoods

​​​​​​​Old Greenwich
Old Greenwich is a charming coastal community with its own downtown shopping area, restaurants, park, yacht club and beach. Greenwich Point Point, or Tod's Point, is open to all Greenwich residents throughout the year. Old Greenwich Yacht Club is also accessible to residents for a fee. Other clubs in Old Greenwich include Innis Arden Golf Club and Rocky Point Club. The Old Greenwich-Riverside Community Center (OGRCC) offers a variety of recreational, athletic, art and educational and social programs for youth as well as adults. Binney Park, which is in the heart of Old Greenwich is one of the most picturesque parks in all of Greenwich and is where many of the local youth soccer teams practice and compete. Located across the street from the park is Perrot Memorial Library, which offers programs for all ages.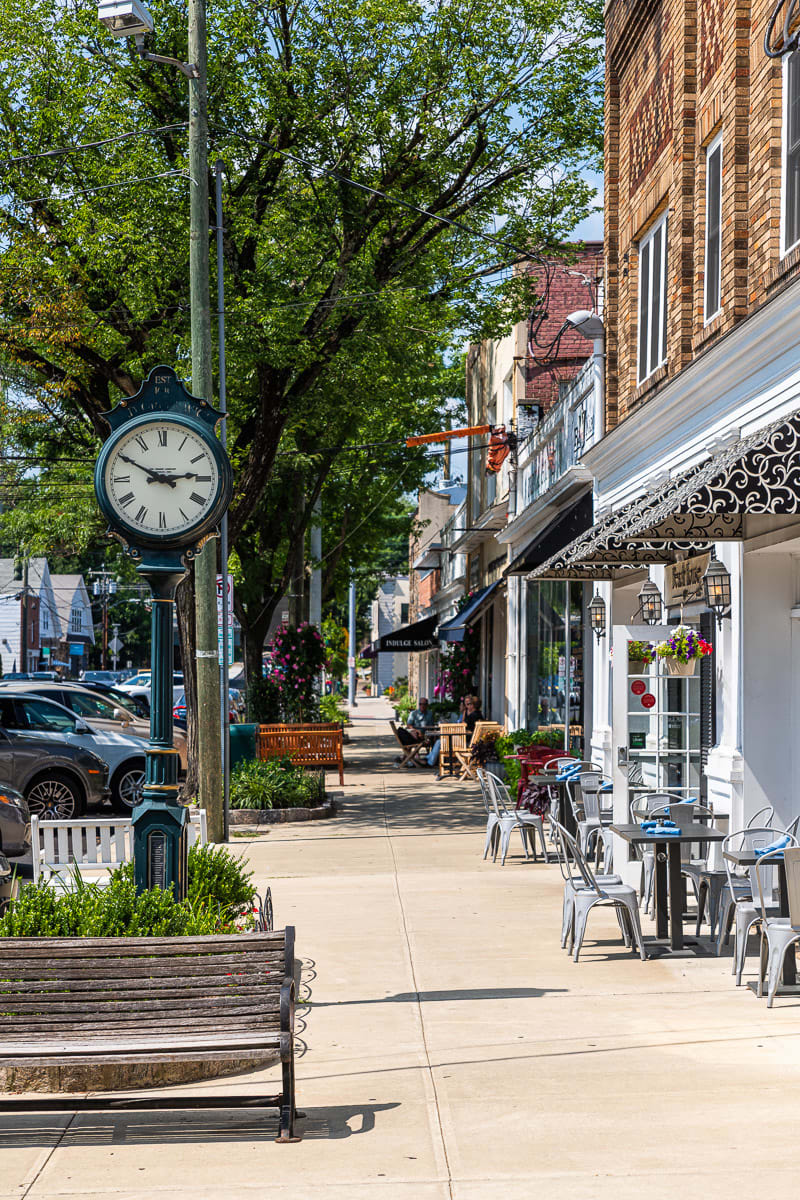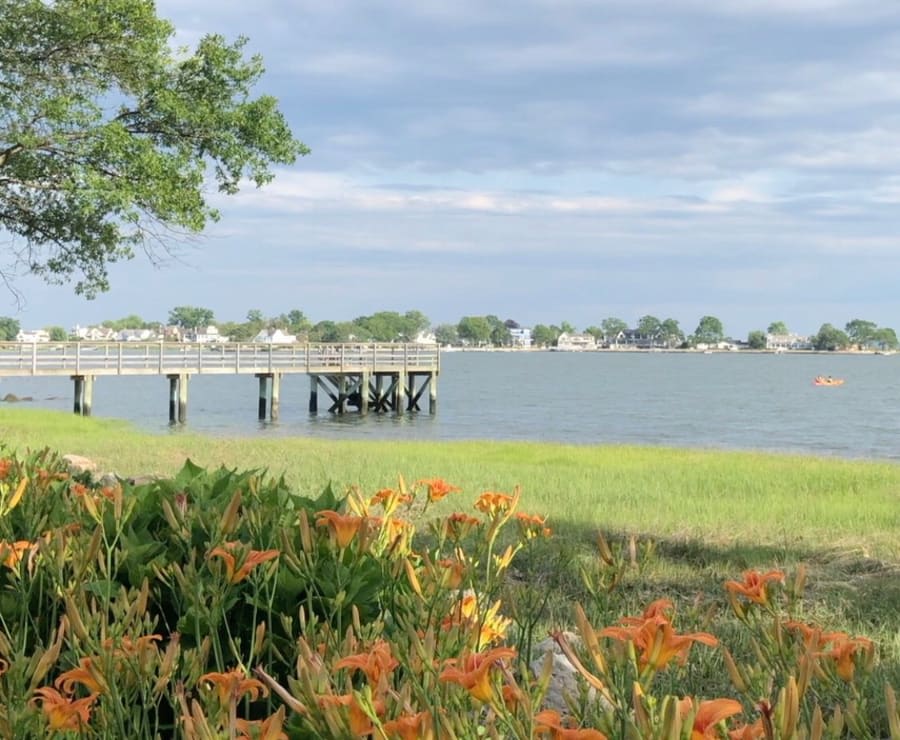 ​​​​​​​Riverside
Formerly called Mianus Neck until 1870, Riverside covers two square miles between the Mianus River to the west and Long Island Sound to the south. Riverside is highly sought after for its schools, family friendly neighborhoods and proximity to the Long Island Sound. Riverside residents love the convenience of being close to town, the train, schools and the water. Riverside Yacht Club is popular among sailors and boaters in town. Some of the most beautiful waterfront properties are located in the private waterfront associations of Willowmere Circle and Harbor Point.


Cos Cob
Cos Cob encompasses two square miles of land in between Riverside and Central Greenwich. Several marinas and boat houses line the Mianus River. The Greenwich Rowing Club and the Greenwich Water Club cater to student athletes and recreational scullers. Cos Cob is known for its artisanal, health food and gourmet shops.There are several parks in Cos Cob to choose from, including the nine-acre Cos Cob Park along the Mianus River, Loughlin Playground, Montgomery Pinetum Park, a 30-acre wooded preserve and the 400-acre reserve at Mianus River Park. The Bush-Holley House is the home of the Greenwich Historical Society and the studio and residence of the Cos Cob School of American Impressionism.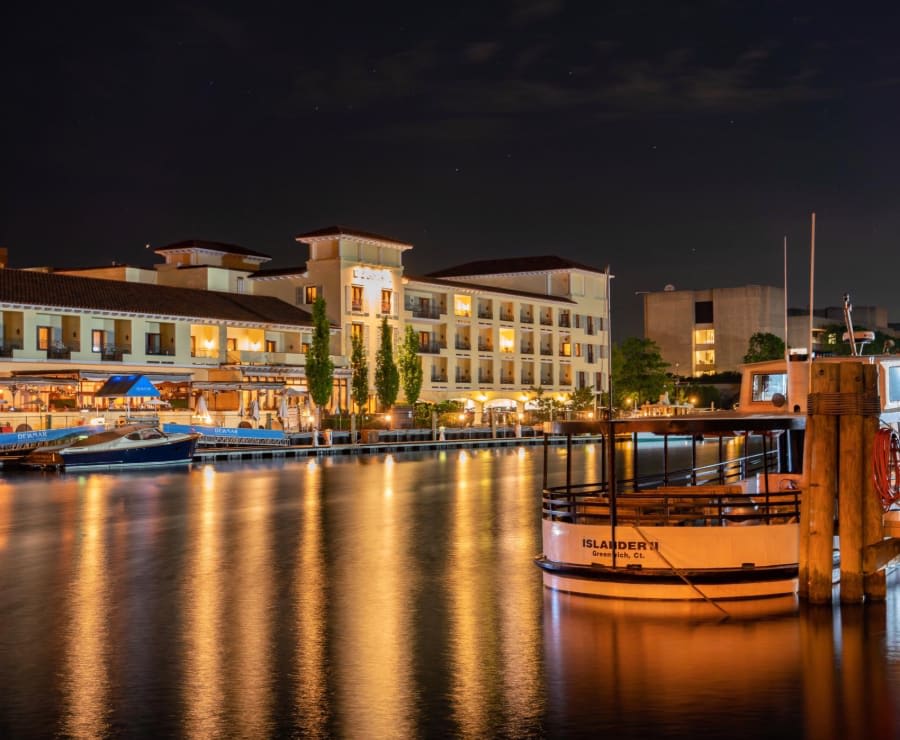 Central Greenwich
Central Greenwich includes luxurious waterfront estates as well as single-family homes and condominiums. Located across the Post Road from Greenwich High School, the Milbrook private association has gated entrances, elegant Tudor-style homes and the Milbrook Country Club has a 9-hole golf course. The exclusive enclaves of Field Point Circle, Belle Haven and Mead Point are home to some of the most beautiful waterfront properties in Greenwich. As the trend to move closer to town has grown, sales of homes have increased in Central Greenwich. At the end of the Avenue is the Greenwich Harbor and the Delamar luxury hotel. Ferries depart the harbor several times a day to take residents to Island Beach and Great Captain Island.


Backcountry and Mid-Country
Passing through winding roads from Central Greenwich, you'll reach Backcountry, just north of the Merritt Parkway with Westchester to the north and Stamford to the east. Mid-Country is the area south of the Merritt Parkway and sought-after properties can be found in the private associations of Deer Park and Khakum Wood. Both of these areas are ideal for those seeking privacy and space. Two-thirds of the land in Greenwich is located in Mid-Country and Backcountry. Properties in Back Country have four-acre zoning, while most properties in Mid-Country have one or two-acre lots. There are over 150 miles of riding trails in Backcountry, which is also home to the Greenwich Polo Club and the Brant Foundation Art Study Center.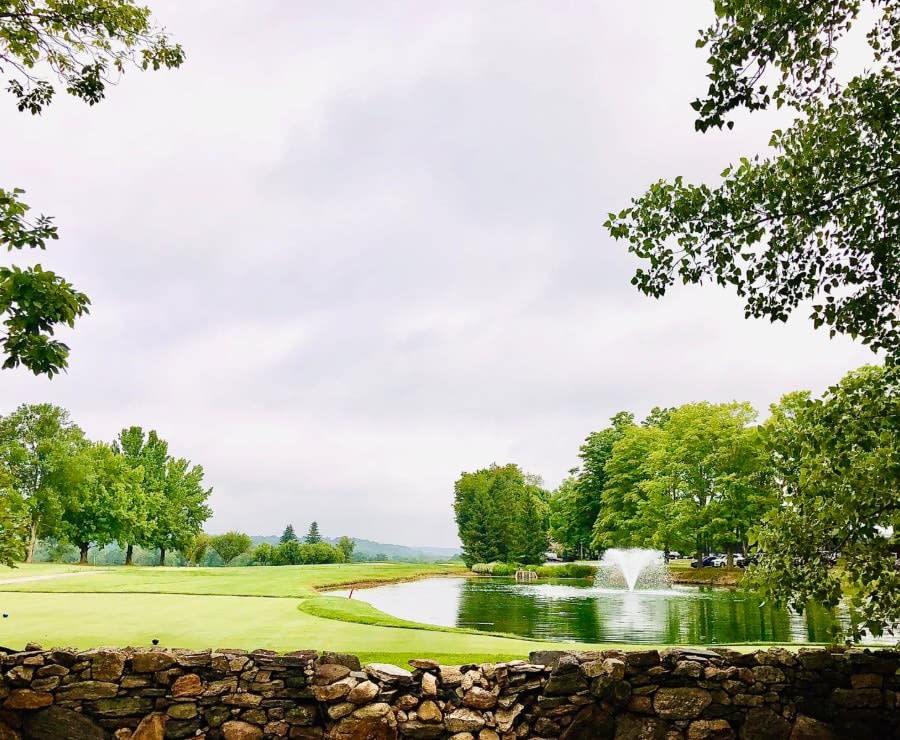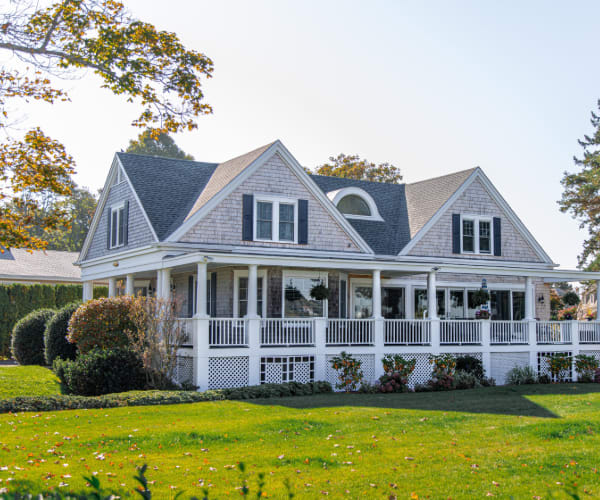 Byram, Glenville, and Banksville
Byram is tucked in the southwest corner of Greenwich, in between the Byram River and Long Island Sound. The hamlet is a mix of magnificent waterfront estates with spectacular Long Island Sound views on Byram Shore Road and more modest single-family homes closer to the village center, bordering Port Chester. The newly revitalized 30-acre Byram Shore and Rosenwald Park features tennis courts, a small beach, boat slips, baseball field and a new community pool. The Dorothy Hamill Skating Rink also offers skating programs. Glenville features a scenic mill pond and waterfall. Banksville is on the state line in the northeast corner of Greenwich. Many well-known residents and celebrities live in the Conyers Farm Partnership with minimum 10-acre lots.