Demand is high, inventory is low, and buyers are looking for sellers to help fulfill their dreams. While that might have sounded like the start to some epic poem on the Greenwich real estate market, it's actually a quick summarization of current market conditions heading into the summer of 2021.

This scenario gives sellers a definite advantage, and even better, it's also the local real estate market's most hectic period for transactions. That being said, the market remains competitive on both sides of the negotiating table. Sellers must still do their part to generate interest and lucrative offers on their homes from interested buyers.

Luxury properties in sought-after Greenwich communities such as Riverside, Old Greenwich and Central Greenwich are not immune to the scrutiny of a highly motivated buyer. Higher offers—sometimes made with all cash—and quick closings translate to a buyer expecting a lot in return for their money.

This means you, the seller, will want to showcase your listing in its best light —a property that earns its premium. Luckily, meeting that standard is surprisingly simple. It requires adhering to a few fundamental principles for home prep and finding the right agent to position your home once it's ready to list. Here are three important steps to prepare your house to sell, ensuring you take advantage of Greenwich's hot-selling season.
Partner with an Experienced Listing Agent
On its surface, selling a luxury home in a market favoring sellers seems like a slam dunk proposition. In fact, for many, it screams DIY. Though there might be a specific set of circumstances that warrant you prepping, listing, and marketing a property for sale on your own, doing so with a luxury home at the height of a seller's market is not the right time to do so.

Even one small misstep—marketing to the wrong buyer, not addressing simple repairs or upgrades, pricing your home too high—can result in your home languishing on the market for too long. Few scenarios will devalue your home faster. Without a professional at your side, you run the risk of leaving a lot of money on the table though listing your home too low or agreeing to unnecessary buyer concessions to close a deal.

That's where the experience of a seasoned listing agent enters the picture. Agents at the top of their game take much of the pricing and negotiating burden off your shoulders, and it's more than pricing where your professional agent ensures your listing and sale is a success. A top real estate professional serves as your guide through the listing process, helping you price, prepare, market, and increase your home's exposure with would-be buyers. Agents also know how to vet the offers, identifying those that are most advantageous to you.

That same agent will also come with a trusted network of lenders and professionals—appraisers, inspectors, landscapers, photographers, repair services, stagers, and web developers. Those teams and individuals ensure your home shines throughout the sales process.

Look for an agent with sustained success dealing with homes in your specific sub-market or neighborhood. It's a bigger bonus if they've done so within a few blocks of your home or on the same street. Seek out agents who've also shown consistency in satisfying their clients—positioning their homes to sell, then selling them at the top of the market. You'll want an agent who believes in open, honest communication and ensuring your home selling needs are met at every step in the process.
Preparing Your Home to List
Now, it's important to point out that even with a standout agent by your side, selling a home remains a highly involved process for the seller. Most specifically, when it's time to physically prep your home for sale. In fact, some of the most important moments in the sales process are the actions you take well before your home is listed. It involves three basic steps: inspection and repairs, cleaning and decluttering, and updates and staging.
1. Inspection and Repairs
Foremost, depending on the age and overall condition of your home, it may be worth it to have your own pre-listing inspection completed. If your home is less than five years old, you can choose to skip this step, but even then, it might prove advantageous. Although a buyer will order an inspection, having your own completed will identify any problem areas or wear and tear you've lost sight of living in the home. The information allows you to make informed decisions on what to repair to improve your listing and what to leave to the negotiating table should an issue arise.

If nothing else, your inspection will give you an idea of what a buyer may uncover. The information keeps you ahead of the game and allows you to develop a strategy when it's time to finalize a price and how to approach any concessions.
2. Cleaning and Decluttering
Cleaning and decluttering is perhaps the most straightforward step in the preparation process, but it also requires the greatest discipline on the seller's part. After all, not only must you clean and arrange your home into a state of "like new," you need to depersonalize the contents and maintain your home this way throughout the sales process. Your goal is to create a blank slate for buyers to envision your home as their own. A residence they can visualize as theirs and not a property that belongs to someone else.

This stage of the home-prep process may also prove the most taxing on you, both physically and emotionally. It's no small feat to pack and prepare a luxury residence for a new owner that's been home to so many personal memories for you. Consider hiring a professional cleaning service and professional packers to minimize your involvement.
3. Updates and Staging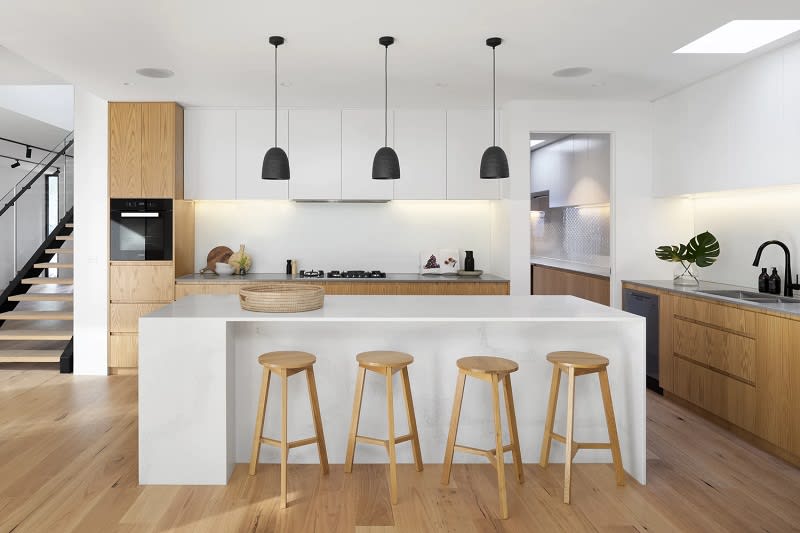 Once you address minor repairs and have cleared out the clutter, you should have a much cleaner canvas on which to craft your home's listing identity and build it back up. When it comes to updates, focus on immediate impact areas that come with a high ROI. Items such as upgraded lighting packages in your kitchen and bathrooms, new fixtures and hardware, updated interior paint scheme, new garage doors, and updated landscaping and exterior lighting all quickly add value without taking too much from your listing budget.

Staging is the final piece in the physical prep process. In almost every instance—and specifically when selling luxury—you'll want to hire a professional stager to aid in the process. Your trusted listing agent will know several well-regarded stagers. Replacing the "lived-in" furniture with furnishings befitting the space will help further the presentation of your home, a place where potential buyers can easily envision themselves. This process includes trading out bulky pieces for those with a smaller footprint that help create greater movement within the home.

Updated window treatments and reducing the contents of your closet by half further promote a space that is open and airy with room to accommodate multiple lifestyle needs. Physically preparing your property to sell isn't difficult, though it can be tedious. Take stock of your positive and negative selling points, and work to highlight the former while de-emphasizing the latter. Employ professionals at each step to ensure your home stands apart in a competitive market.
Set a Price That Sells
The last step in preparing your house to sell comes down to pricing. There's more to pricing and generating interest in your home than avoiding pricing it too high or too low. You want to price it accurately and competitively within your specific market—which might even mean at or slightly below its market value—to generate the interest and offers we previously alluded to. Reaching that point requires research.

Comps are your primary reference point for determining your home's value. Examine past transactions of homes that mirror yours—those with similar age, amenities, location, square footage—to determine where the market trends are and what buyers want and what they're willing to pay for it.

Ultimately, the determination of where to price your home falls to you, the seller. But if you want to craft a strategy that produces the multiple competing bids commonplace in a seller's market, lean on the resources available to you. Don't shy from your listing agent's own resources, research, and recommendations. They'll bring the experience of past transactions that inform the price points where a home will sell and where it will linger on the market.

If you're ready to explore the best of Greenwich real estate and need a trusted partner to help sell your current home and secure your next residence, contact Mia Simonsen today to start your home selling or buying journey. Look to Mia's years of experience and expertise to be your guide on your real-estate journey.